Hidersine Clear Viola Rosin
H1VA
RRP $19.95
Viola Rosin - Light - Large Size
Recently developed by Hidersine in England, the 1VA Viola Rosin came after countless requests to create a specific product that met the needs of viola players.
The lower register of the viola and slightly thicker string-profile led us to thoroughly investigate the ideal recipe for viola. Although many viola players have used violin rosin for many years, by carefully altering both the core mixture and processing, our craftsmen have created what we believe to be the ideal formula for Viola.
Hidersine 1VA rosin offers the viola player more control than ever before thanks to this specific formulation designed to bring out the uniquely rich and vocal nature of the instrument.
With a Grip Profile Rating of #5, Hidersine 1VA is a little softer than regular light/hard violin rosin (such as the 1V or 3V), yet not as soft as the darker violin rosins (such as 6V). This middle ground suits the viola very well, providing ideal levels of grip and traction while still remaining free-playing.

(As a rule of thumb, the larger the string of the instrument, the softer the rosin mix should be. Violin is harder than Cello… and Cello is harder than Double Bass rosin etc)
This Hidersine Rosin is made in England, United Kingdom in the same way as always: An Artisanal process of hand-mixing and hand-pouring.
Specifications:
Instrument: Viola
Type: Light (Amber Coloured) Medium-Hard
Suitable for: All players from students to professionals.
Sound Characteristic: Rich and Vocal
Grip Profile Rating (1: Low Grip/ 10: High Grip): GPR #5
Temperature Profile: Temperate to Warm Climates
Primary constituents: Colophon, Natural Waxes
Cake Size: Large
Cake Weight: 30g (approx)
Country of Origin: England, United Kingdom
Manufacture process: Historic / Artisanal (Hand-mixed, Hand-poured)
Master Box Quantity: 10 pcs
| | |
| --- | --- |
| SKU | H1VA |
| Barcode # | |
| Brand | Hidersine |
| Shipping Weight | 0.0460kg |
| Shipping Width | 0.054m |
| Shipping Height | 0.054m |
| Shipping Length | 0.031m |
Others Also Bought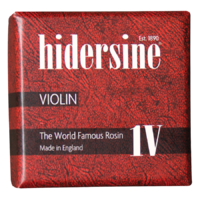 H1V
Hidersine Clear Violin Rosin Each
H1470M
W.E. Hill & Sons 1470M Violin Light Rosin
More From This Category