Hidersine Studenti Viola 14" Student Outfit
HST-VA14
RRP $499.00
Studenti Viola Outfit – 14" Size
Designed for the ambitious beginner.
"Created for the ambitious beginner, the Hidersine Studenti instrument outfits offer higher-quality tonewoods and genuine hardwoods that will happily see students through their first few grades in style."
**Hidersine's 'Ready to Play' Promise**
Your new Hidersine instrument will have already been inspected and setup 'ready to play' in our workshop. This means that you can buy with confidence, take your new instrument along to your lesson and be ready to go from the off.
Don't forget to choose the correct size of instrument.
The Hidersine Studenti viola is available in 15.5", 15", 14" & 13" sizes.
Get the best start you can:
When you're starting out on an unknown journey, such as learning a new musical instrument, it's understandably tempting to go for the very cheapest option possible 'just to see how it goes'. But, deep down we all know that it's not actually the best idea…
Having a proper instrument on which to start learning will undoubtedly help you or your child get the very best results possible. If you have an instrument that hasn't been set up properly, or one that hasn't been built as well as it should, no matter how much practise you do, it isn't going to sound any better.
So, by choosing a Hidersine Studenti instrument, you will give yourself, your child or your student the best chance of advancing at a good pace, as the instrument will be capable of genuinely reflecting your own ever-growing level of skill.
Key Features:
Your Studenti violin or viola is supplied as an outfit, which is to say it is complete with what you need to get started. Besides the instrument itself, also included is a shaped case with internal accessory compartments and an outer pocket. The attractive Hidersine case has a light-reflective strip on the outer cover, a zipped opening and a comfy handle too.
Most importantly, your Studenti outfit includes a Bulletwood bow, without which no sound is possible. Just tighten the hair, apply a little of the included Hidersine rosin, and the bow is ready to play… as you will be too.
Tone that will continually improve.
Hidersine Studenti instruments feature a solid spruce top – or sound-table. This is important because your instrument's primary voice is formed by this sound-table, and therefore the top can resonate as a single, coherent structure and sound great as a result. Plus, as the wood ages and the solid tonewood top gradually relaxes at a cellular level into its natural rest state, it will resonate even naturally, and the sound will improve further. Winner!
Ebony - Feels great, plays great:
Studenti violins, violas and cellos all benefit from a genuine Ebony fingerboard and pegs. This prized hardwood has traditionally been used for fingerboards and pegs for hundreds of years due to its truly long-lasting properties. Unlike stained or 'ebonized' softwoods often used on student instruments, genuine Ebony will not mark, pit or wear out under lengthy playing periods. Rather it will remain structurally sound for a very long time, and will also feel smooth on the fingers, helping make the playing experience more pleasant all round.
An Exclusive Appearance.
Hidersine Studenti instruments not only have a solid top, but they also have solid Maple ribs and backs too. These solid tonewood sections further enhance the instrument's natural tone. The top produces the instrument's primary voice, and the back and sides add the character.
The solid Maple core is enhanced further by it's finish. This is a special finishing technique which gives the appearance of visually top-grade maple, so your Studenti instrument has the appearance of a much more exclusive instrument.
Supplied with:
Shaped styrofoam case featuring shaped carry handle, zipped accessory pocket, external rubber feet, velvet lining with blanket, padded base, internal compartments & 2 bow holders
Bulletwood, Half-mounted bow
Hidersine Rosin block
Quick Spec:
Solid Spruce Table
Solid Maple back and ribs
Carved Maple Neck
Genuine Ebony fingerboard and pegs
Carbon Tailpiece
Hidersine H100 Synthetic Core Strings.
Available Sizes:
15.5", 15", 14", 13"
Product Specification
| | |
| --- | --- |
| Back, Neck & Ribs | Solid Maple |
| Bow | Bulletwood |
| Bridge Finish | Seasoned Maple |
| Case Type | Shaped Styrofoam Case |
| Chin Rest | Ebony |
| Fingerboard | Ebony |
| Instrument | Viola |
| Outfit | Outfit |
| Peg Type | Ebony |
| Rosin | Hidersine |
| Sizes | 15.5", 15", 14" and 13" |
| Sound Post | Spruce |
| Strings | H100 |
| Table | Selected Straight Grained Solid Spruce |
| Tailpiece | Carbon |
| Tuners | 4 Integral Fine Tuners |
| | |
| --- | --- |
| SKU | HST-VA14 |
| Barcode # | 5036678018882 |
| Brand | Hidersine |
| Shipping Weight | 2.2000kg |
| Shipping Width | 0.250m |
| Shipping Height | 0.120m |
| Shipping Length | 0.780m |
Others Also Bought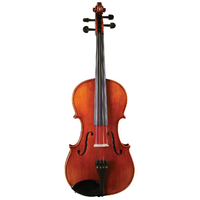 HST-VA13
Hidersine Studenti Viola 13" Student Outfit
More From This Category