Thomastik 147W Dominant Cello Weich String Set
DT147W
RRP $375.00
Thomastik Dominant for Cello
The Dominant string is a highly flexible, multistrand synthetic core string for tonal warmth and feel of gut and is impervious to changes in humidity, allowing for stable intonation and long life. The sound is soft, clear and rich in overtones.
Available Sizes | Gauges
4/4 | light, medium, heavy
3/4 | medium
1/2 | medium
1/4 | medium
1/8 | medium
Click here to download the Thomastik guide / glossary of terms
Cello 4/4 vibrating string length 70cm | 27.6"
LIGHT
MEDIUM
HEAVY
NR.
Core Material
Outer Material
Tailpiece End
kg
lb
Peg End
kg
lb
Peg End
kg
lb
Peg End
DT142
a
la
I
Synthetic Core
Chrome Wound

13.0
28.7

14.0
30.9

14.8
32.6

DT143
d
re
II
Synthetic Core
Chrome Wound

10.3
22.7

11.3
24.9

12.6
27.8

DT144
G

Sol

III
Synthetic Core
Chrome Wound

9.5
20.9

10.4
22.9

11.5
25.4

DT144A
G

Sol

III
Synthetic Core
Silver Wound

11.6
25.6

DT145
C
Do
IV
Synthetic Core
Chrome Wound

9.5
20.9

10.2
22.5

11.2
24.7

DT145A
C
Do
IV
Synthetic Core
Silver Wound

12.1
26.7
SET NR. DT147
DT142; DT143; DT144; DT145
LIGHT
42.3 kg | 93.2 lb
MEDIUM
45.9 kg | 101.2 lb
HEAVY
50.1 kg | 110.5 lb
Click here to download the Thomastik guide / glossary of terms
Download the full comprehensive Thomastik catalogue
| | |
| --- | --- |
| SKU | DT147W |
| Barcode # | 9003918600080 |
| Brand | Thomastik |
Others Also Bought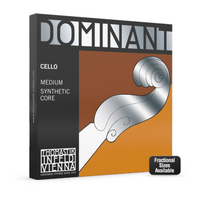 DT147H
Thomastik 147H Dominant Cello 1/2 String Set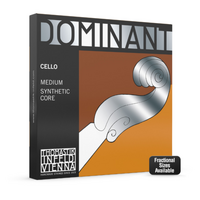 DT147Q
Thomastik 147Q Dominant Cello 1/4 String Set
More From This Category