Thomastik AL23Q Alphayue Viola 'G' String 1/4 Size
DTAL23Q
RRP $24.95
Thomastik Alphayue for Viola
Alphayue is a breakthrough string for students of all levels – the number one choice for aspiring artists! Alphayue delights with sound qualities never before available at this price point. A high-tech synthetic core married with renowned Thomastik-Infeld quality delivers a rich, sophisticated sound palette impossible to achieve with steel core strings.
Available Sizes | Gauges
4/4 | medium
3/4 | medium
1/2 | medium
1/4 | medium
1/8 | medium
Click here to download the Thomastik guide / glossary of terms
Viola 1/4 vibrating string length 30cm | 11.8"
MEDIUM
NR.
Core Material
Outer Material
Tailpiece End
kg
lb
Peg End
DTAL21Q
a

¹

la

²

I
Synthetic Core
Chrome Wound

5.4
11.9

DTAL22Q
d

¹

re

¹

II
Synthetic Core
Chrome Wound

4.3
9.5

DTAL23Q
g
sol
III
Synthetic Core
Monel Wound

4.2
9.3

DTAL24Q
c
do
IV
Synthetic Core
Monel Wound

4.0
8.8

SET NR. DTAL200Q
DTAL21Q; DTAL22Q;
DTAL23Q; DTAL24Q
MEDIUM
17.9 kg | 39.5 lb
Click here to download the Thomastik guide / glossary of terms
Download the full comprehensive Thomastik catalogue
| | |
| --- | --- |
| SKU | DTAL23Q |
| Barcode # | 9003918763730 |
| Brand | Thomastik |
We Also Recommend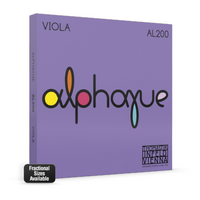 DTAL200Q
Thomastik AL200Q Alphayue Viola 1/4 Size String Set
Others Also Bought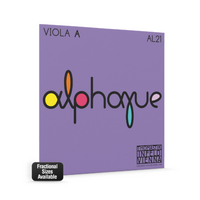 DTAL21Q
Thomastik AL21Q Alphayue Viola 'A' String 1/4 Size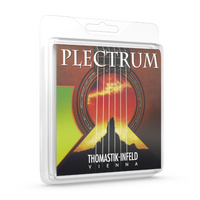 DTAC113T
Thomastik AC113T Plectrum Bronze Acoustic Guitar Strings 13/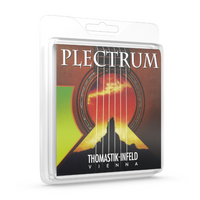 DTAC111T
Thomastik AC111T Plectrum Bronze Acoustic Guitar Strings 11/
More From This Category