Thomastik S13 Spirocore Violin 'G' String
DTS13
RRP $42.95
Thomastik Spirocore for Violin
Spirocore strings have a flexible multi-wire spiral rope core. They offer a longer period of musical vibration and significantly reduce inertia. Spirocore strings are equally effective when playing arco or pizzicato. They are highly responsive and long lasting.
Available Sizes | Gauges
4/4 | medium
Click here to download the Thomastik guide / glossary of terms
Violin 4/4 vibrating string length 32.5cm | 12.8"
MEDIUM
NR.
Core Material
Outer Material
Tailpiece End
kg
lb
Peg End
DTS8
e

²

mi

²

I
Spiral Core
Chrome Wound

7.5
16.5

DTS9
e

²

mi

²

I
Spiral Core
Aluminum Wound

7.5
16.5

DTS10
a

¹

la

¹

II
Spiral Core
Chrome Wound

6.0
13.2

DTS12
d

¹

re

¹

III
Spiral Core
Chrome Wound

5.0
11.0

DTS13
g

sol

IV
Spiral Core
Chrome Wound

4.6
10.1
SET NR. DTS15
SET NR. DTS15A
DTS9; DTS10; DTS12; DTS13
DTS8; DTS10; DTS12; DTS13
MEDIUM
23.1 kg | 50.8 lb
MEDIUM
23.1 kg | 50.8 lb
Click here to download the Thomastik guide / glossary of terms
Download the full comprehensive Thomastik catalogue
| | |
| --- | --- |
| SKU | DTS13 |
| Barcode # | 9003918103543 |
| Brand | Thomastik |
Others Also Bought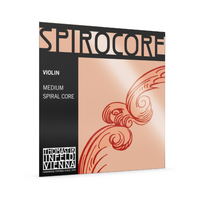 DTS10
Thomastik S10 Spirocore Violin 'A' String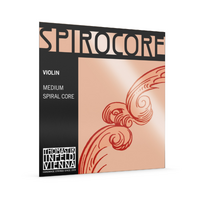 DTS12
Thomastik S12 Spirocore Violin 'D' String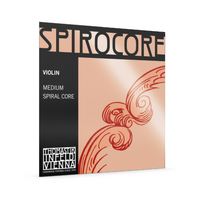 DTS12A
Thomastik S12A Spirocore Violin 'D' AluMinium String
More From This Category