Thomastik S39S Spirocore Bass Solo 4/4 FiS1 String
DTS39S
RRP $150.00
Thomastik Spirocore Solo for Double Bass
SOUND.
60 years ago Thomastik-Infeld invented the spiral rope core high twist used in Spirocore strings. For 60 years and counting it still remains unrivalled! Spirocore strings stand out with a distinctive focus, a brilliant and clear top and a very powerful bottom, ideal for dark sounding instruments.
STABILITY.
They have a very long life span and will support your every move and tone.
RESPONSE.
The spiral rope core enables prompt translation of every impulse from the left hand or bow into an expressive and powerful sound.
PROJECTION.
They impress with a long sustain, growl, punch and power but also with their great dynamic range and their multiplicity of tone colours. Designed to set the standard for the greatest Jazz players, more and more Arco soloists continue to discover the beauty of sound and playability of Spirocore strings.
PROUDLY PLAYED BY:
Stanley Clarke, Dominik Emanuel Wagner, Renaud Garcia-Fons, Max Dimoff and many more.
Available Sizes | Gauges
4/4 | medium
3/4 | medium
1/2 | medium
Click here to download the Thomastik guide / glossary of terms
Double Bass Solo 4/4 vibrating string length 110cm | 43.3"
Usable from 106cm / 41.7", up to 110cm / 43.3"
MEDIUM
NR.
Core Material
Outer Material
Tailpiece End
kg
lb
Peg End
DTS36S
A
La
I
Spiral Core
Chrome Wound

31.0
68.3

DTS37S
E
Mi
II
Spiral Core
Chrome Wound

34.0
75.0

DTS38S
H

1

Si

1

III
Spiral Core
Chrome Wound

34.0
75.0

DTS39S
Fis

1

Fa#

1

IV
Spiral Core
Chrome Wound

34.0
75.0

DTS40S
Cis

1

Do#

1

V
Spiral Core
Chrome Wound

35.0
77.2

DTS44S*
D

1

Re

1

IV
Spiral Core
Chrome Wound

39.0
86.0
*Extension string
SET NR. DTS43
DTS36S; DTS37S; DTS38S; DTS39S
MEDIUM
133.0 kg | 293.3 lb
Click here to download the Thomastik guide / glossary of terms
Download the full comprehensive Thomastik catalogue
| | |
| --- | --- |
| SKU | DTS39S |
| Barcode # | 9003918102119 |
| Brand | Thomastik |
We Also Recommend
DTS38S
Thomastik S38S Spirocore Bass Solo 4/4 H1 String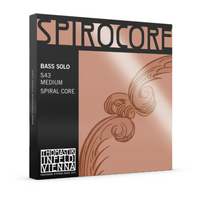 DTS43
Thomastik S43 Spirocore Bass Solo String Set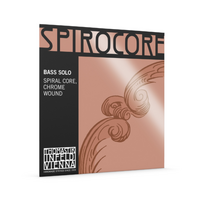 DTS44S
Thomastik S44S Spirocore Bass Solo Fis1 Extension 4/4 String
Others Also Bought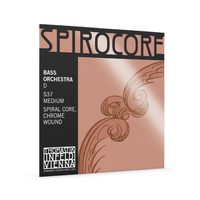 DTS37
Thomastik S37 Spirocore Bass Orchestra 4/4 'D' String
DTS38S
Thomastik S38S Spirocore Bass Solo 4/4 H1 String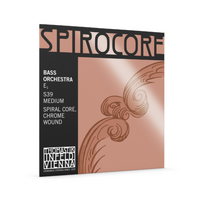 DTS39
Thomastik S39 Spirocore Bass Orchestra 4/4 'E' String
More From This Category