Thomastik SP100.1/2 Spirit Violin 1/2 String Set
DTSP100H
RRP $88.95
Thomastik Spirit! for Violin
Behind each string of the Spirit! string line is the fundamental idea that making music should bring you joy. The advancing player and aspiring artist will discover that Spirit! strings provide them with everything needed to produce a distinguished sound for every kind of music. These strings impress with an even, balanced tone across all strings and have a beautiful, warm tone, making it also an excellent choice for those looking to balance out a brighter-sounding instrument.
Available Sizes | Gauges
4/4 | medium
3/4 | medium
1/2 | medium
1/4 | medium
Click here to download the Thomastik guide / glossary of terms
Violin 1/2 vibrating string length 28.3cm | 11.1"
MEDIUM
NR.
Core Material
Outer Material
Tailpiece End
kg
lb
Peg End
DTSP01H
e

²

mi

²

I
Carbon Steel
Tin Plated

6.2
13.7

DTSP02H
a

¹

la

²

II
Synthetic Core
Aluminum Wound

5.0
11.0

DTSP03H
d

¹

re

¹

III
Synthetic Core
Aluminum Wound

4.6
10.1

DTSP04H
g
sol
IV
Synthetic Core
Silver Wound

4.2
9.3
SET NR. DTSP100H
DTSP01H; DTSP02H; DTSP03H; DTSP04H
MEDIUM
20.0 kg | 44.1 lb
Click here to download the Thomastik guide / glossary of terms
Download the full comprehensive Thomastik catalogue
| | |
| --- | --- |
| SKU | DTSP100H |
| Barcode # | 9003918703125 |
| Brand | Thomastik |
Others Also Bought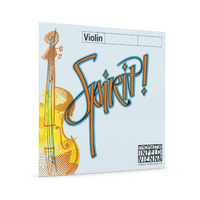 DTSP01
DTSP01 Thomastik SP01 Spirit 'E' Violin String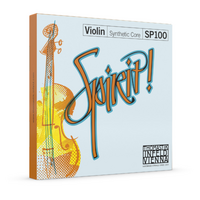 DTSP100
Thomastik SP100 Spirit Violin 4/4 String Set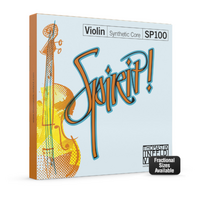 DTSP100.3/4
Thomastik SP100.3/4 Spirit Violin 3/4 String Set
More From This Category