Thomastik VES400 Versum Solo Cello String Set
DTVES400
RRP $679.00
Thomastik Versum Solo for Cello
powerful body
soloistic brilliance
maximum resilience
The Versum Solo edition offers unprecedented possibilities of combining colour, sound and texture. These strings were designed for profound power, ideal response and optimal projection – and they deliver! With effortless virtuosity they are poised to enhance the performances of even the most discerning players and cut through any acoustical situation.
Available Sizes | Gauges
4/4 | medium
Click here to download the Thomastik guide / glossary of terms
Cello 4/4 vibrating string length 70cm | 27.6"
MEDIUM
NR.
Core Material
Outer Material
Tailpiece End
kg
lb
Peg End
DTVES41

a

la
I
Carbon Steel
Multialloy Wound

18.2
40.1

DTVES42
d
re
II
Carbon Steel
Multialloy Wound

14.3
31.5

DTVES43
G
Sol
III
Spiral Core
Tungsten/Chrome Wound

14.3
31.5

DTVES44
C

Do

IV
Spiral Core
Tungsten/Chrome Wound

13.7
30.2
SET NR. DTVES400
SET NR. DTVES4142
SET NR. DTVES4344
DTVES41; DTVES42; DTVES43; DTVES44
DTVES41; DTVES42
DTVES43; DTVES44
MEDIUM
60.5 kg | 133.3 lb
MEDIUM
32.5 kg | 71.6 lb
MEDIUM
38 kg | 61.7 lb
Click here to download the Thomastik guide / glossary of terms
Download the full comprehensive Thomastik catalogue
| | |
| --- | --- |
| SKU | DTVES400 |
| Barcode # | 9003918763853 |
| Brand | Thomastik |
Others Also Bought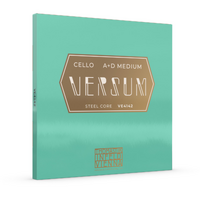 DTVE4142
DTVE4142 Thomastik VES4142 Versum A / D Twin Pack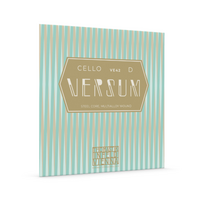 DTVE42
Thomastik VE42 Versum Cello 'D' String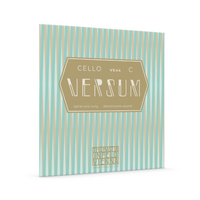 DTVE44
Thomastik VE44 Versum Cello 'C' String
More From This Category