Thomastik VES4344 Versum Solo 'G' & 'C' Cello String Twin Pack
DTVES4344
RRP $469.00
Thomastik Versum Solo for Cello
powerful body
soloistic brilliance
maximum resilience
The Versum Solo edition offers unprecedented possibilities of combining colour, sound and texture. These strings were designed for profound power, ideal response and optimal projection – and they deliver! With effortless virtuosity they are poised to enhance the performances of even the most discerning players and cut through any acoustical situation.
VERSUM SOLO A
With the VERSUM SOLO A comes a new freedom of expression! It impresses with its richly smooth, saturated warm tone colors and soloistic brilliance. Even in full performance it does not compromise in sound, both in the delicate Pianissimo as well as the rich Fortissimo and still offers the diverse tonal palette a cellist needs on stage. Thanks to its effortless and elegant response VERSUM SOLO is swift to react. With a beautiful body and distinguished projection, the VERSUM SOLO A is a league of its own!
VERSUM SOLO D
The new VERSUM SOLO D compensates for the common flaws of D-strings and offers the captivating presence, textured body and vast colour spectrum you have been searching for. Its exceptional design made of ultra-light aluminum and a synthetic coated copper winding allows for a much smaller string diameter than commonly expected from a D-string. The result: a brilliant, powerful and rich sound that turns the D-string into an ideal bridge between G and A. It also enables you to easily draw harmonic overtones from your instrument. After a short settling time VERSUM SOLO lets you express elegant piano nuances and lets you live your solistic presence to the fullest.
VERSUM SOLO G+C
VERSUM SOLO G and C strings embody an as yet unrivalled synthesis of explosive dynamics and graceful flexibility with the best possible response. Their solid, deep core tone is surprising with its brilliant and vivid note. Their modulation capability is just as exceptional: whether soft and sweet piano, valiant fortissimo passages or simply the earthy response – the sky's the limit for the player.
The intonation can also be fully customized: whether soft, hard or sharp, from Baroque to modern, VERSUM SOLO G- and C-strings offer the highest level of possible tones and variations.
Combined with VERSUM SOLO A- and D-strings, the descant strings sound even livelier and more dynamic. At the same time, they support an exquisite sound with vocal quality.
Available Sizes | Gauges
4/4 | medium
Click here to download the Thomastik guide / glossary of terms
Cello 4/4 vibrating string length 70cm | 27.6"
MEDIUM
NR.
Core Material
Outer Material
Tailpiece End
kg
lb
Peg End
DTVES41

a

la
I
Carbon Steel
Multialloy Wound

18.2
40.1

DTVES42
d
re
II
Carbon Steel
Multialloy Wound

14.3
31.5

DTVES43
G
Sol
III
Spiral Core
Tungsten/Chrome Wound

14.3
31.5

DTVES44
C

Do

IV
Spiral Core
Tungsten/Chrome Wound

13.7
30.2
SET NR. DTVES400
SET NR. DTVES4142
SET NR. DTVES4344
DTVES41; DTVES42; DTVES43; DTVES44
DTVES41; DTVES42
DTVES43; DTVES44
MEDIUM
60.5 kg | 133.3 lb
MEDIUM
32.5 kg | 71.6 lb
MEDIUM
28 kg | 61.7 lb
Click here to download the Thomastik guide / glossary of terms
Download the full comprehensive Thomastik catalogue
| | |
| --- | --- |
| SKU | DTVES4344 |
| Barcode # | 9003918763846 |
| Brand | Thomastik |
Others Also Bought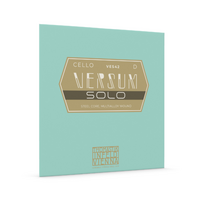 Thomastik VES42 Versum Solo 'D' Cello String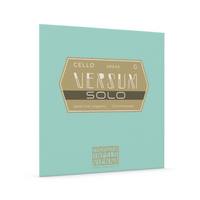 DTVES43 Thomastik Versum Solo Cello G String
More From This Category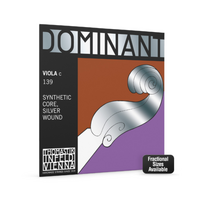 Thomastik 139H Dominant Viola 'C' 1/2 String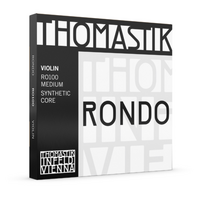 Thomastik RO100 Rondo Violin String Set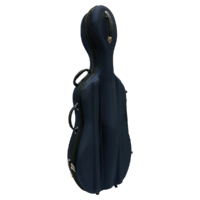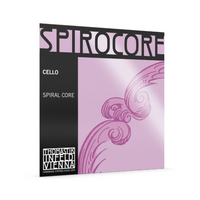 Thomastik S28 Spirocore Cello 'G' String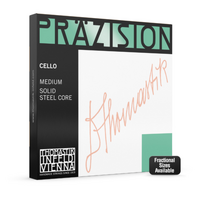 Thomastik 774 Precision Cello 1/4 String Set