Thomastik VI100.3/4 Vision Violin 3/4 String Set
DTVI100.3/4
RRP $100.00
Thomastik Vision for Violin
Wound on an advanced synthetic core, Vision strings are designed to settle in quickly and to achieve a stable tuning within a very short time. They impress with a focused, clear, open and brilliant tone; a perfect fit for today's modern sound. Vision strings can be mixed with almost any synthetic core string.
Available Sizes | Gauges
4/4 | medium, heavy
3/4 | medium
1/2 | medium
1/4 | medium
1/8 | medium
1/10 | medium
1/16 | medium
Click here to download the Thomastik guide / glossary of terms
Violin 3/4 vibrating string length 30.5cm | 12"
MEDIUM
NR.
Core Material
Outer Material
Tailpiece End
kg
lb
Peg End
DTVI01.3/4
e²
mi²
I
Carbon Steel
Tin Plated

7.3
16.1

DTVI02.3/4
a¹
la¹
II
Synthetic Core
Aluminum Wound

5.1
11.2

DTVI03.3/4
d¹
re¹
III
Synthetic Core
Silver Wound

4.1
9.0

DTVI04.3/4
g
sol
IV
Synthetic Core
Silver Wound

4.2
9.3
SET NR. DTVI100.3/4
DTVI01.3/4; DTVI02.3/4;
DTVI03.3/4; DTVI04.3/4
MEDIUM
20.4 kg | 44.9 lb
Click here to download the Thomastik guide / glossary of terms
Download the full comprehensive Thomastik catalogue
| | |
| --- | --- |
| SKU | DTVI100.34 |
| Barcode # | 9003918601629 |
| Brand | Thomastik |
Others Also Bought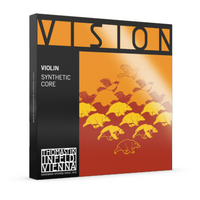 DTVI100.1/10
Thomastik VI100.1/10 Vision Violin 1/10 String Set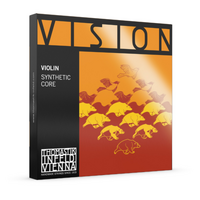 DTVI100.1/16
Thomastik VI100.1/16 Vision Violin 1/16 String Set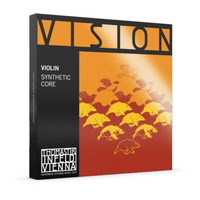 DTVI100.1/8
Thomastik VI100.1/8 Vision Violin 1/8 String Set
More From This Category