Thomastik VIS21 Vision Solo Viola 'A' String
DTVIS21
RRP $43.95
Thomastik Vision Solo for Viola
Vision Solo viola strings feature a technically advanced formulation and architecture designed to produce a blend of exceptional performance and playing characteristics. They offer great warmth with focus and clarity as well as energetic and intense projection. Using advanced synthetic core technology, they are easy to play and settle-in just one to two hours. They offer unparalleled tuning stability, respond quickly and are more durable than most synthetic core strings.
Available Sizes | Gauges
4/4 | medium
Click here to download the Thomastik guide / glossary of terms
Viola 4/4 vibrating string length 37cm | 14.6"
usable from 37cm / 14.6" up to 39cm / 15.4"
MEDIUM
NR.
Core Material
Outer Material
Tailpiece End
kg
lb
Peg End
DTVIS21
a

¹

la

¹

I
Carbon Steel
Chrome Wound

8.1
17.9

DTVIS22
d

¹

re

¹

II
Synthetic Core
Chrome Wound

5.9
13.0

DTVIS22A
d

¹

re

¹

II
Synthetic Core
Silver Wound

6.3
13.9

DTVIS23
g
sol
III
Synthetic Core
Silver Wound

5.7
12.6

DTVIS24
c
do
IV
Synthetic Core
Silver Wound

5.6
12.3
SET NR. DTVIS200
DTVIS21; DTVIS22; DTVIS23; DTVIS24
MEDIUM
25.3 kg | 55.8 lb
Click here to download the Thomastik guide / glossary of terms
Download the full comprehensive Thomastik catalogue
| | |
| --- | --- |
| SKU | DTVIS21 |
| Barcode # | 9003918108210 |
| Brand | Thomastik |
We Also Recommend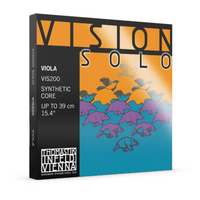 DTVIS200
Thomastik VIS200 Vision Solo Viola String Set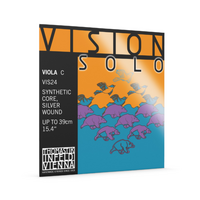 DTVIS24
Thomastik VIS24 Vision Solo Viola 'C' String
Others Also Bought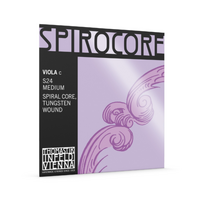 DTS24
Thomastik S24 Spirocore Viola 'C' Tungston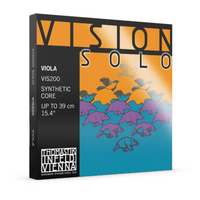 DTVIS200
Thomastik VIS200 Vision Solo Viola String Set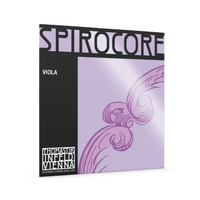 DTS24ST
Thomastik S24ST Spirocore Viola 'C' Tungston Stark
More From This Category