Thomastik VIT100 Vision Titanium Solo Violin 4/4 String Set
DTVIT100
RRP $169.00
Thomastik Vision Titanium Solo for Violin
Vision Titanium Solo violin strings are wound on an advanced synthetic core, while thier highly polished surface allows for effortless left-hand technique. They offer incredible focus on the upper strings and clarity and are perfect for soloists. These strings settle in very quickly and offer unparalleled tuning stability. They are more durable than most synthetic core strings and respond quickly. Ball ends are made of Titanal.
Available Sizes | Gauges
4/4 | medium
Click here to download the Thomastik guide / glossary of terms
Violin 4/4 vibrating string length 32.5cm | 12.8"
MEDIUM
NR.
Core Material
Outer Material
Tailpiece End
kg
lb
Peg End
DTVIT01
e

²

mi

²

I
Stainless Steel
Titanium-design

8.0
17.6

DTVIT02
a

¹

la

¹

II
Synthetic Core
Aluminum Wound

5.5
12.1

DTVIT03
d

¹

re

¹

III
Synthetic Core
Silver Wound

4.8
10.6

DTVIT04
g

sol

IV
Synthetic Core
Silver Wound

4.7
10.4
SET NR. DTVIT100
DTVIT01; DTVIT02; DTVIT03; DTVIT04
MEDIUM
23.0 kg | 50.7 lb
Click here to download the Thomastik guide / glossary of terms
Download the full comprehensive Thomastik catalogue
| | |
| --- | --- |
| SKU | DTVIT100 |
| Barcode # | 9003918601537 |
| Brand | Thomastik |
Others Also Bought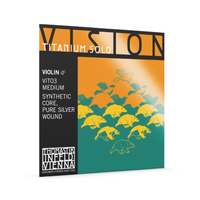 DTVIT03
Thomastik VIT03 Vision Titanium Solo Violin 'D' 4/4 String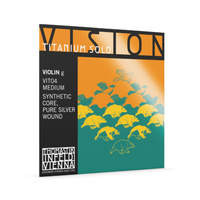 DTVIT04
Thomastik VIT04 Vision Titanium Solo Violin 'G' String
More From This Category