G7th Heritage Wide Silver Capo Style 2
G7HW-S2
RRP $379.00

Tradition and Innovation in Harmony
Heritage Capo
The Heritage is a traditional yoke-style capo made from hand-polished stainless steel and features our patented Adaptive Radius TechnologyTM (ART®) string pad.
With force exerted from the centre of the guitar neck, the ART® string pad can perfectly distribute the pressure over all six strings by adapting to match the radius of the fingerboard.
Every Heritage comes with a leather pouch, polishing cloth and gift box. Available in standard and wide widths for guitar and banjo, and for 12 string guitars.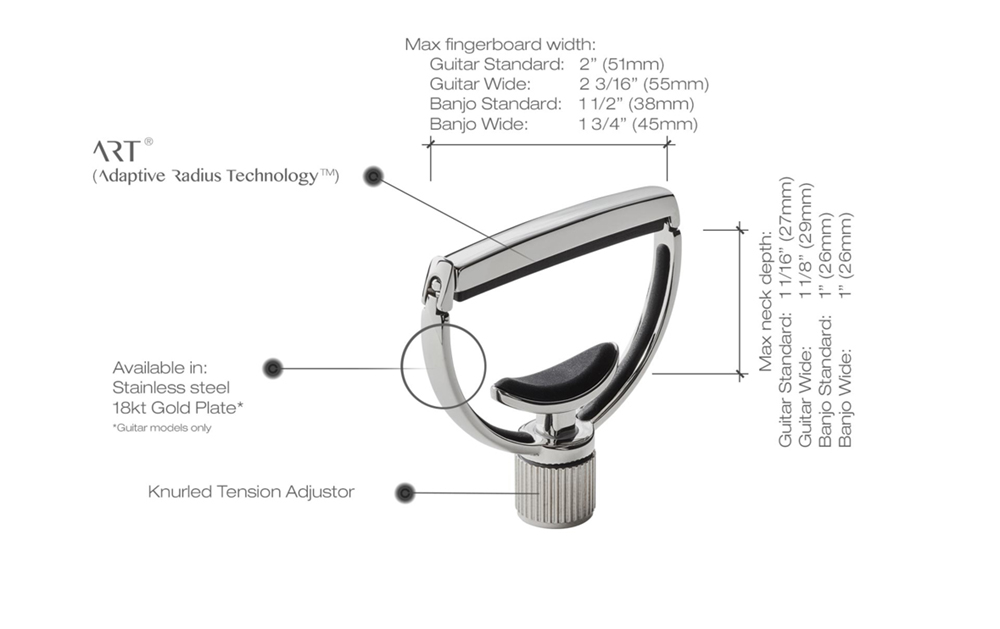 "The longer I have the Heritage and the more I play with it, the more I love it. Workmanship, design, and ART
®

aside, it SOUNDS GREAT!
No matter where I place it, it replicates the dry woody bark that my Rockbridge Smeck has uncapoed."
Randall Ray
Rockbridge Guitars luthier and co-founder
Design and features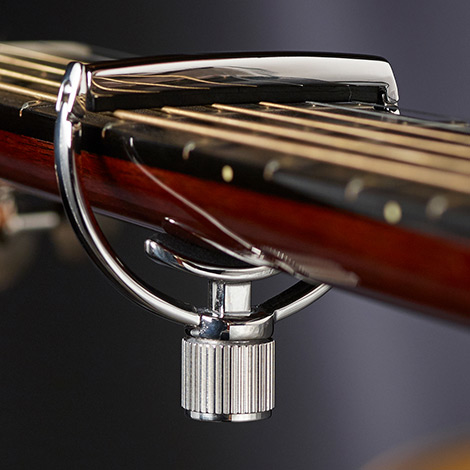 Stunning aesthetics
Tradition
A traditional yoke-style guitar capo that you can store behind the nut on your instrument between songs, designed to look subtle yet beautiful when on your guitar. Popular because the force is exerted from the centre of the neck for excellent pressure distribution, and its low profile shape.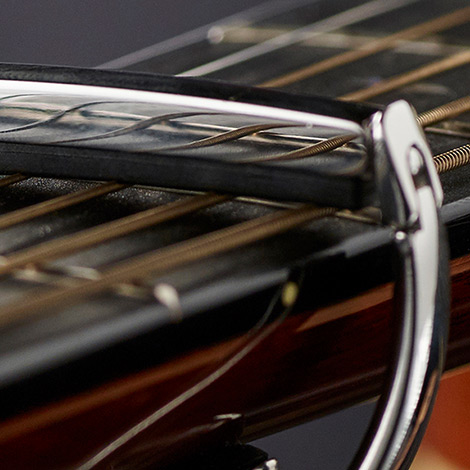 Groundbreaking ART
®
Innovation
The Adaptive Radius TechnologyTM system within the top bar of Heritage capos mechanically adapts to the true curvature over your strings and fretboard, exerting completely even pressure across all the strings - setting a new standard of in-tune, buzz-free use. It gives you the maximum tuning stability with the minimum possible tension.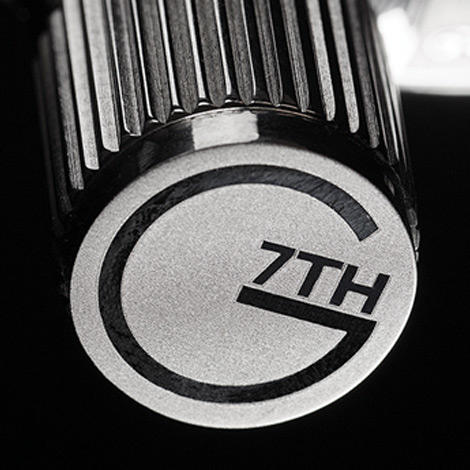 Superior design
Unique Features
Heritage capos feature a knurled tension adjustment knob for fine adjustments, a secure latching top bar that locks under tension, and a firm string pad material that safeguards your tone by reducing vibration damping.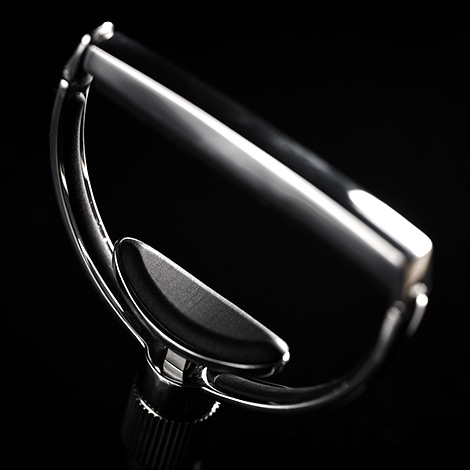 Protect Your neck
Internal Silicone Pads
With non-reactive, protective silicone pads at every touchpoint, you can be sure that the finish on your instrument is safe when using a Heritage capo.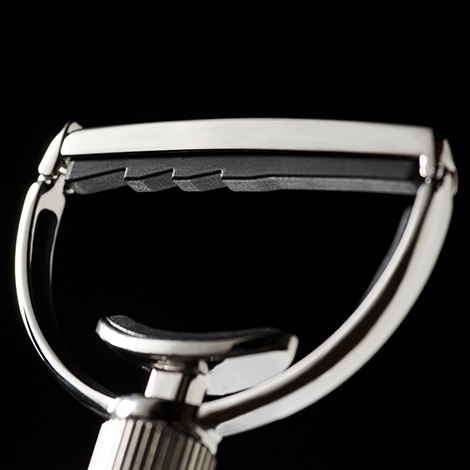 Perfect for 12 strings
Compensated String Pad
TM
Our patented Compensated String PadTM allows you to fret all 12 strings at the same time and with the same tension by compensating for the different gauges of strings using carefully designed ridges in the silicone string pad.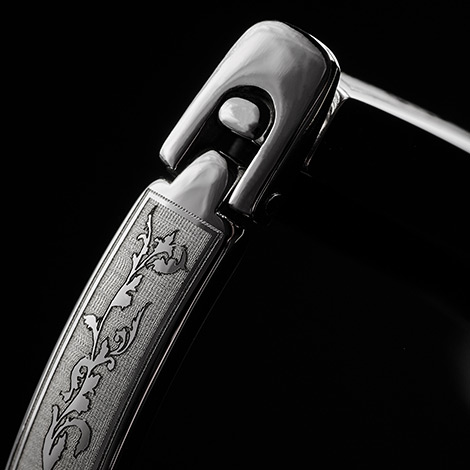 Personalise your capo
Stunning engraving
Available with several engraving options for some of the range, featuring exquisite Acanthus Leaf designs on the curved sides and top bar of the capo.
LIFETIME LIMITED WARRANTY
| | |
| --- | --- |
| SKU | G7HW-S2 |
| Barcode # | 5060079200485 |
| Brand | G7th |
| Shipping Weight | 0.1350kg |
| Shipping Width | 0.092m |
| Shipping Height | 0.030m |
| Shipping Length | 0.092m |
We Also Recommend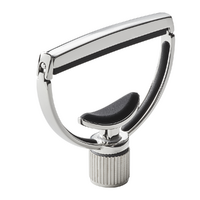 G7HW-S1
G7th Heritage Wide Silver Capo Style 1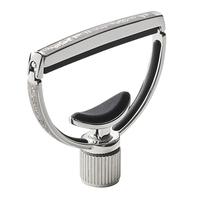 G7HW-S3
G7th Heritage Wide Silver Capo Style 3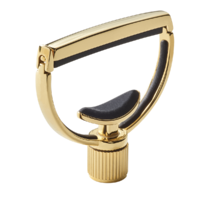 G7HW-S1G
G7th Heritage Wide Gold Capo Style 1
Others Also Bought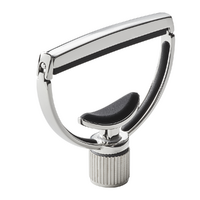 G7HW-S1
G7th Heritage Wide Silver Capo Style 1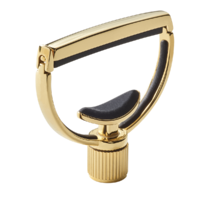 G7HW-S1G
G7th Heritage Wide Gold Capo Style 1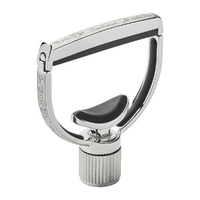 G7HBW-S3
G7th Heritage Banjo Wide Silver Capo Style 3
More From This Category