Thomastik 135W Dominant Violin Weich String Set
DT135W
RRP $125.00
Thomastik Dominant for Violin
Widely regarded as "the reference standard" Dominant strings, made with a highly flexible, multi-strand synthetic core, provide the tonal warmth and feel of a gut string while being impervious to changes in humidity. The sound is soft, clear with a stable intonation and they are rich in overtones. One of the world's most popular strings!
Available Sizes | Gauges
4/4 | light, medium, heavy
3/4 | medium
1/2 | medium
1/4 | medium
1/8 | medium
1/16 | medium
Click here to download the Thomastik guide / glossary of terms
Violin 4/4 vibrating string length 32.5cm | 12.8"
LIGHT
MEDIUM
HEAVY
NR.
Core Material
Outer Material
Tailpiece End
kg
lb
Peg End
kg
lb
Peg End
kg
lb
Peg End
DT129
e

²

mi

²

I
Stainless Steel

7.5
16.5

7.8
17.2

9.1
20.1

DT129SN
e

²

mi

²

I
Carbon Steel
Tin Plated

8.3
18.3

DT130
e

²

mi

²

I
Carbon Steel
Aluminum Wound

6.6
14.6

7.2
15.9

7.5
16.5

DT130MS
e

²

mi

²

I
Carbon Steel
Aluminum Wound

6.6
14.6

7.2
15.9

7.5
16.5

DT131
a

¹

la

¹

II
Synthetic Core
Aluminum Wound

4.6
10.1

5.5
12.1

5.9
13

DT132
d

¹

re

¹

III
Synthetic Core
Aluminum Wound

3.9
8.6

4.1
9.0

5.4
11.9

DT132A
d¹
re

¹

III
Synthetic Core
Silver Wound

4.0
8.8

4.5
9.9

5.5
12.1

DT133
g
sol
IV
Synthetic Core
Silver Wound

3.7
8.2

4.4
9.7

4.9
10.8
SET NR. DT135
SET NR. DT135A
SET NR. DT135B
SET NR. DT135BA
DT130; DT131; DT132; DT133
DT130; DT131; DT132A; DT133
DT129; DT131; DT132; DT133
DT129; DT131; DT132A; DT133
LIGHT
18.8 kg | 41.5 lb
LIGHT
18.9 kg | 41.7 lb
LIGHT
19.7 kg | 43.4 lb
LIGHT
19.8 kg | 43.6 lb
MEDIUM
21.2 kg | 46.7 lb
MEDIUM
21.6 kg | 47.6 lb
MEDIUM
21.8 kg | 48.0 lb
MEDIUM
22.2 kg | 48.9 lb
HEAVY
23.7 kg | 52.2 lb
HEAVY
23.8 kg | 52.4 lb
HEAVY
25.3 kg | 55.8 lb
HEAVY
25.4 kg | 56.0 lb
Click here to download the Thomastik guide / glossary of terms
Download the full comprehensive Thomastik catalogue
| | |
| --- | --- |
| SKU | DT135W |
| Barcode # | 9003918600332 |
| Brand | Thomastik |
| Shipping Weight | 0.0200kg |
Others Also Bought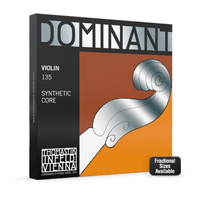 DT135Q
Thomastik 135Q Dominant Violin 1/4 String Set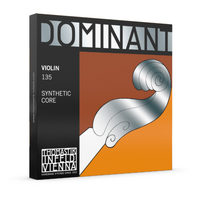 DT135ST
Thomastik 135S Dominant Violin Stark String Set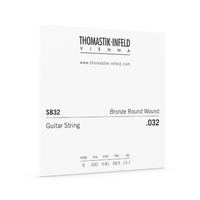 DTSB32
Thomastik SB32 Spectrum Bronze .32 Single String
More From This Category