Thomastik BC600S Belcanto Solo Double Bass 3/4 Solo String Set
DTBC600S
RRP $560.00
Thomastik Belcanto Solo for Double Bass
SOUND.
Belcanto is the number one choice for Orchestra players. They allow a multitude of possibilities to blend in while offering the focus and projection bass players need to stand out.
You will love their smooth, dark and warm sound, beautiful clarity as well as excellent resonance. They impress with a vast spectrum of tone colours, a precise and powerful intonation and abundant modulation in all ranges.
STABILITY.
Because of their unique steel rope core design, they settle in very quickly and convince with extreme tuning stability.
RESPONSE.
These strings offer quick bow response for the classical music repertoire but also natural pizzicato for Jazz. The left hand feel is gentle and engaging, and they feel soft under your fingers.
PROJECTION.
With only moderate effort, they give you outstanding projection.
PROUDLY PLAYED BY:
Ernö Racz, Edicson Ruiz, Dominik Emanuel Wagner and many more.
Available Sizes | Gauges
3/4 | medium
Click here to download the Thomastik guide / glossary of terms
Double Bass Solo 3/4 vibrating string length 104cm | 40.9"
Usable from 103cm / 40.6", up to 110cm / 43.3"
MEDIUM
NR.
Core Material
Outer Material
Tailpiece End
kg
lb
Peg End
DTBC61S
A
La
I
Rope Core
Chrome Wound

29.5
65.0

DTBC62S
E
Mi
II
Rope Core
Chrome Wound

29.8
65.7

DTBC63S
H

1

Si

1

III
Rope Core
Chrome Wound

29.8
65.7

DTBC64S
Fis

1

Fa#

1

IV
Rope Core
Chrome Wound

29.3
64.6
SET NR. DTBC600S
DTBC61S; DTBC62S; DTBC63S; DTBC64S
MEDIUM
118.4 kg | 261 lb
Click here to download the Thomastik guide / glossary of terms
Download the full comprehensive Thomastik catalogue
| | |
| --- | --- |
| SKU | DTBC600S |
| Barcode # | 9003918602015 |
| Brand | Thomastik |
We Also Recommend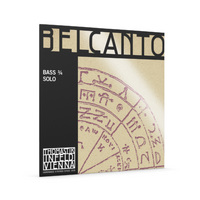 DTBC61S
Thomastik BC61 Belcanto Bass Orchestra 3/4 'G' String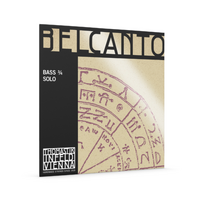 DTBC62S
Thomastik BC62S Belcanto Solo Double Bass 3/4 'E' String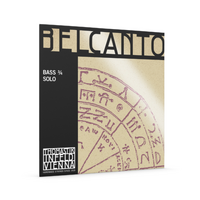 DTBC63S
Thomastik BC63S Belcanto Solo Double Bass 3/4 'H1' String
Others Also Bought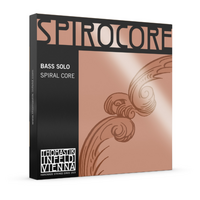 DT3886
Thomastik 3886 Spirocore Bass Solo String Set 3/4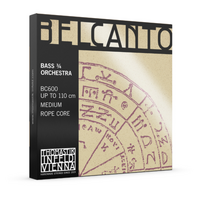 DTBC600
Thomastik BC600 Belcanto Bass Orchestra 3/4 String Set
More From This Category